Marriage isn't always milk and honey.
Even Disney couples have their ups and downs, and real life is no different.
There might be moments, though, when you feel something is completely wrong.
Maybe all of a sudden, he started to arrive home late and, out of the blue, he casually changed his look too?
Perhaps he's doing his best to avoid you? Leaves early in the morning only to arrive home late at night, putting off a lame excuse that he has too much to do at work?
Have you always been the best for him, but now it seems the only thing he does is to compare you with other women?
All these are signs he might be attracted to another woman.
Your heart's empty now and feels so saddened. Attraction, though, doesn't necessarily mean he's cheating.
Maybe you can still work towards saving your marriage, but how can you find the truth?
Now, I assume that wasn't your case, so read on to find a few signs he might be attracted to another woman and what you can do to win him back in no time.
SIGNS THAT YOUR HUSBAND IS ATTRACTED TO ANOTHER WOMAN
1. HE AVOIDS YOU
No man changes absolutely. It is a gradual process. If he is attracted to another woman, he tries to avoid you as much as he can.
He does not want you to see his call log, hence he clears it.
If you are the type that normally checks his phone without constraint, he begins to get offended when you go through it and even avoids your call when he stays out later than usual.
2. HE BECOMES A MAN WITH LOTS OF SECRETS
It is normal for married couples to share every tiny secrets but if your husband hides from you to receive his messages or reply his text all of a sudden, then there is another woman in the picture.
Such men find it difficult to uphold their words.
In fact, at the slight provocation, they turn conversations into arguments.
3. HE STARTS COMPARING YOU
He might have never compared you with anybody but the moment he does, he is already getting attracted to another woman.
I can only compare a friend to another person because I have taken my time to study the other person. For him, the more he gets attracted, the more he notices things peculiar to her.
He begins to see you as her and if he gets to regain his consciousness, he looses out to compare. While some may stylishly make their comparison, some may even be bold to say it.
Expressions like 'I had lunch with my accountant at a new restaurant, we should go there someday' He seems not to hide the relationship but in the actual sense, he is trying to take your mind off it in case you begin to notice.
4. HIS LOOKS BECOME UNUSUAL
The husband you know never wore a brand asides Calvin Klein but now he wears Ocean pacific.
He gets a new haircut and pays more attention on being impressive. Some may say, 'well, you can decide to change the way you look at any time'.
Of course, Yes! But understand that a person's dress sense does not change overnight except the change is triggered by an important factor.
5. HE GETS EASILY OFFENDED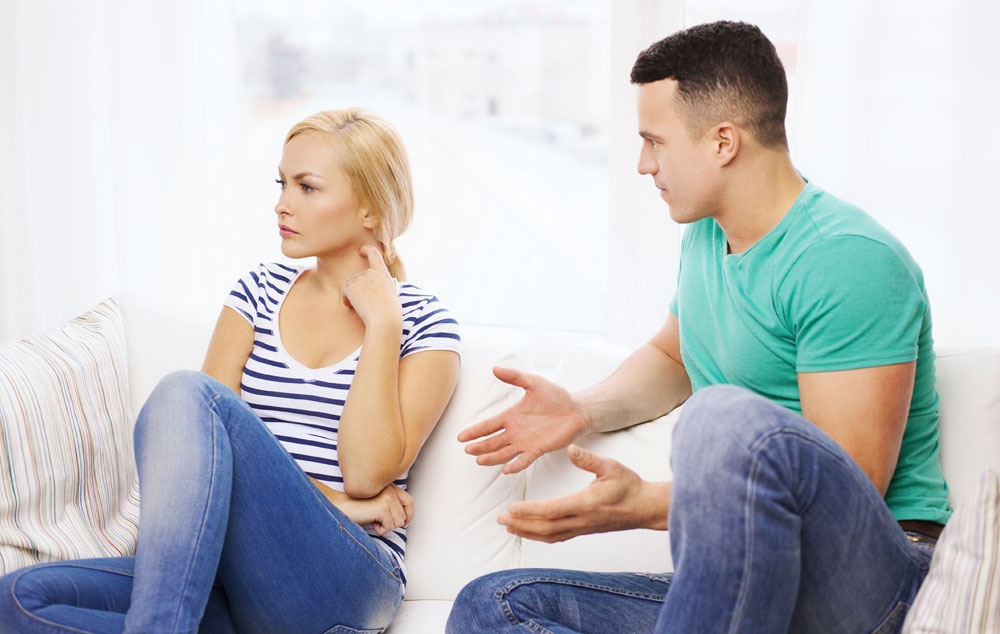 Now, this part is usually the obvious part of a change in attitude.
He sees a reason to get offended at the way you talk, the way you look, your sitting position and other similar things.
He gets so irritated that you begin to wonder if you changed overnight.
6. HE REDUCES THE TIME HE SPENDS WITH YOU
Be careful when your husband reduces the time he spends with you for no reason or a flimsy reason. The man who wants to be with you at all times now tells you he has a meeting, he needs to look through some files, or he needs to rest.
Relationships are different and the way married couples relate vary. However, one or more of these signs will surely be noticed.
As previously stated, there is a difference between feeling and knowing. You can be sure if he exhibits the signs above. However, there is a room to give the benefit of a doubt.
CONCLUSION
Marriage is not a relationship with the 'on and off pattern'. It is either on or off. Before you take these steps, ensure you confirm your feelings by knowing. Much more, understand that it is natural to be attracted to another woman but the moment it begins to affect your marriage, you need to intervene.
Don't force anything but make efforts towards restoration. Do not hesitate to drop your questions in the comment session.
Love is a tough one but you can make it easy when you Rise to Fight For what you Believe in.